WHAT WE DO? MORE LIKE WHAT WE
DON'T

DO! Start a project with us

Before we show you everything we're able to do, we'll take a second and explain our proven five step approach to how all Pelluche staff members treat each and every project that comes through the pipeline.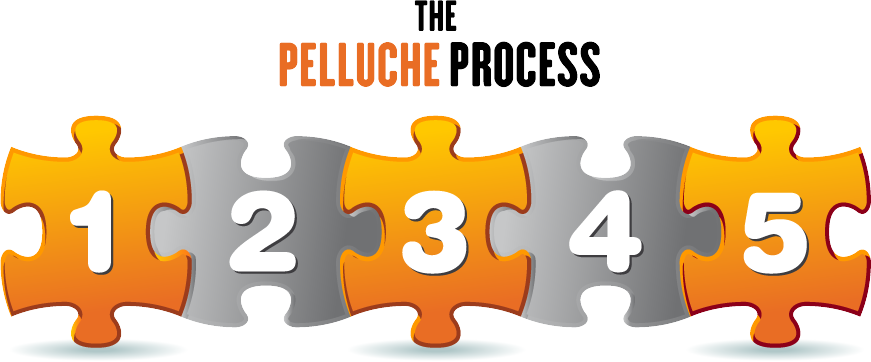 DISCOVER

We don't start by designing, oh no, we start by asking questions and listening. We listen to you. Really hard. We dig and dig until we know everything about you - your ideas, projects, favorite color, anything - to make sure we know precisely how we can help

DESIGN

Once we've feverishly collected all your raw ideas, concepts, suggestions, hopes and dreams, the team gets together to carefully and comprehensively outline the entire project from start to finish before the first pixel is pushed or line of code is written

DEVELOP

With all the instruments in place, the time comes to compose the symphony. As the project starts to live and breathe, we constantly check our outline to ensure we are staying on task and everything is proceeding as it should be

DELIVER

Once we have exhaustively poked, prodded and tested the project, and the whole team agrees it sparkles, we'll deliver it - on time and on budget

SUPPORT

After your project has been launched, our goal is to help you and your company succeed. Period. We are available 24/7/365 for questions, concerns, updates, supporting collateral and anything in between
At Pelluche Creative we provide a variety of services that suit pretty much any design or production need. Please scroll below to find what service best suits your needs. On the off chance that what you're looking for doesn't exist below, simply click here and send us your idea. We promise to work diligently with you to help make your idea become a reality.
Web / Interactive
Web Design & Development

Interactive, intelligent and beautiful web experiences created by highly skilled designers, developers, and strategists.

+ more

Content Management (CMS)

When it comes to a Content Management System for websites, the ExpressionEngine platform is our weapon of choice. No hard feelings, Wordpress.

+ more

Mobile Web & Apps

We design and develop mobile-friendly websites and applications that create seamless user experiences.

+ more
Our artists craft well-designed, meticulously developed, content-rich web solutions that function first on the desktop, then easily on any other device you specify. Need it to be responsive? We can do that. Need it to have cross browser support on Chrome, Firefox, Internet Explorer, and Safari? We have it covered. Need it to utilize the latest technologies such as HTML5, CSS3, Javascript/jQuery, MYSQL, or PHP? Not a problem for us.
We believe in giving our clients the power to tweak and edit their content as they see fit, whenever their hearts desire. That's why we build virtually every site on ExpressionEngine, a feature-rich CMS. It's especially capable when custom developing EE to fit your specific content needs. This isn't an "out of the box" solution. Oh no, it's a customized, content managed solution designed and developed especially for you. However, we will develop using Wordpress or Joomla if your heart is really set on it.
A 2013 study by industry giant Yahoo recently found that 52% of mobile users won't engage with a brand that delivers a poor mobile experience. By next year, many experts predict there will be more mobile web users than desktop users. Businesses can't afford to ignore the mobile experience any longer.
We provide a number of strategically developed solutions, the most important of which is developing your website to be mobile friendly. We can also create custom apps to help tap into this emerging audience.
eCommerce

We create customized e-commerce solutions bundled with award winning design to create first class interactive experiences.

+ more

Search Engine Optimization

Search engine robots can't interact and comprehend a website the same way that people do. We can bridge that gap and you can sit back and watch your search engine rankings soar.

+ more

Social Media Marketing

Social media outlets are increasingly becoming a popular form of communication and are the backbone of many online marketing campaigns. Let us do all the busy work by managing your social media accounts.

+ more
Our e-commerce solutions deliver more bang for you buck because we know and provide all of the elements of e-commerce success. This includes award winning design that's proven to convert visitors to customers at high rates, search engine optimization and online marketing campaign management that attracts customers for less than industry averages, and an e-commerce technology platform that is flexible, expandable, and performs far better than competing solutions, whether open source or proprietary, in providing visitors fast loading e-commerce pages and carts.
When it comes to attracting traffic using your website, "build it, and they will come" is a frequently-used, but ineffective strategy. Often folks are too busy running their businesses to focus on optimizing their site for search engines and other awareness strategies. We're always up to speed on the latest and greatest strategies for increasing your exposure on the web and we're not afraid to get our hands dirty.
Facebook alone has over 1 billion users and gets one out of every five page views on the Internet. Google+, LinkedIn and Twitter each have over 200 million users, and together they represent a tremendous opportunity to reach your market. The idea of being able to freely communicate and express oneself is a huge draw for many people, especially Generation X. Having a strategy to take advantage of this market is important for the success of a business. Since many social media platforms are free for users, it is essentially free marketing for a company as well. Let us expertly assist you to help maximize your exposure all over the inter-webs.
Graphic Design & Print
Logo/Branding

Why should anyone buy from you? Why does anyone? Reputation & word of mouth can only take you so far.

+ more

Print Collateral

The internet may be dominating the world of design, but print hasn't gone way of the dinosaurs. We love designing print and offer streamlined packages that will take your idea straight to the printed page.

+ more

Signage/Posters

We design signage, posters, and packaging that communicates and connects your unique brand message with your audience.

+ more
If you don't have a logo professionally designed, and are having Aunt Patty or some high school kid down the street come up with something in their spare time, you've just demolished the very cornerstone that helps to identify a business or organization. Branding is much more than a cool font or dingbat. The talented folks at Pelluche develop dazzling branding identities to accurately reflect your company image, quality and core message, and that are equally effective across all media applications.
Today, people see the print medium all day every day. You could think of it as the "meat and potatoes" of marketing. Billboards, newspapers, magazines, packages on the store shelf, the business card in your wallet and all that stuff that comes in the mail. Print surrounds us. It's been around a long time and has an established credibility.
Print projects can be a very intimate and cozy way to convey your brand message. Your customers can touch and feel a printed piece. We also find that, if print is designed well, it can be pretty hard for folks to throw away without at least giving it its fair shake.
We have broad experience with many types of print collateral like brochures, annual reports, postcards, business cards, sell sheets and posters. We're designers, so of course we'll always make appealing and professional, but we also understand what goes on at a print shop so the production process will never be an hassle.
Signs, posters, billboards? We have you covered, whether you want one or dozens! We have the latest digital design and sign-making technology to get the job done. Our state-of-the art equipment is manned by skilled and experienced operators who are used to working on tight deadlines and budgets.
Copy & Content

Let us create persuasive website copy for any or all of your pages.

+ more

Photography

We have the means and expertise to shoot many different types of photography, including but not limited to portrait, product, architectural, event, and wedding.

+ more

3D Animation

We are well versed in unique and amazing technologies to help brand your company. We can provide you with 3D holograms to use in trade-shows, in office buildings, during business meetings, or any other venue you can think of.

+ more
At Pelluche Creative, we breathe life into every word of your copywriting so you enjoy better business results. Whether your existing website copywriting needs an overhaul or your new business needs its very first pages of content, we're here for you all the way.
Photography services are offered in a number of ways depending on the nature of your specific need. Additional services include high resolution scanning, photo retouching and stock photography. Contact us for details.
​Our team has over 10 years of experience as a partner with HolograFX, Inc, a company that provides 3D photo realistic logos, products or characters that truly float in mid air without any 3D glasses. Pelluche produces all of the 3D animation for this patented technology by using Newtek Lightwave as our main software for all 3D modeling. This emerging technology has been used by companies like Pepsi, Coca Cola, NASA, Kellogg's, Diageo, and Bratz. Let us help brand your company with an experience that no one will ever forget!
Additional Services
Hosting & Email Services

We can host your site on a VPS dedicated to our clients. Best part - we manage everything!

+ more

Video Production

Captivating video for TV, web and big screen to suit any business need.

+ more

Offset/Digital Printing

Offset, digital, or wide format - you let us know the specs and we'll work up a customized quote for you in hours not days.

+ more
Not sure how to register your domain, where to host and manage it, or how to set up email for all the members of your company? Let us take care of it all for you so you can focus on what's most important to you - running your every day business. We offer very affordable monthly and annual plans.
People love to showcase important moments in their lives, be them personal or professional, through video. If you have thousands of digital pictures that you're not sure what to do with or video of company parties and events that capture great moments but needs a lot of editing, we can help. Let us work our magic and combine all of these to create a professional final cut you'll be proud to show the world.
No matter what type of print project you have, we'll be able to recommend the best printing method and quote jobs based on all of your time and budget needs.
We have exclusive access to a complete printing facility which allows us to control every step of the printing process, from design to finished product, from a one color business card to a full color brochure or annual report.
Promotional Products

We can put your logo on practically anything for a lot less than you think.

+ more
Whether you need a few personalized gifts for clients, 1000 custom t-shirts for your company's next big event, or an entire brand solution program tailored to your business, we can help.
We are committed to providing outstanding service and exceptional value. Give us the chance to quote your project. We may just happen to surprise you!